Are you looking for non-traditional recreation? Do you enjoy an active free time with your family or friends in the unique beauty of nature? Then this is the place for you! 3* Hotel by the lake!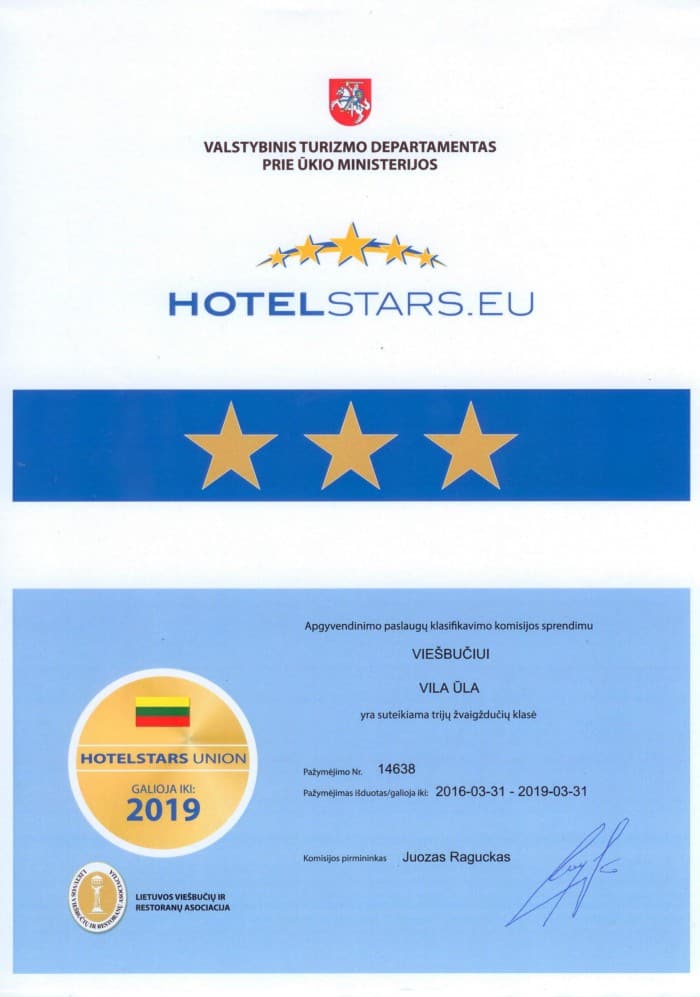 Our rural tourism during the warm season will help you to discover Dzūkija and enjoy the unique nature by riding bicycles, a scooter or horses. You can also go canoeing in Merkys or Ula. In addition, Villa Ula has the biggest screen in the whole Dzukija to watch various sports events. You can also enjoy fishing, playing volleyball, basketball , table tennis, billiards, petanque and other games. In autumn, you are invited to join mushroom festival. In winter, do not forget to celebrate Christmas, corporate parties or your anniversary. Do not miss the chance to feel the pleasure of the sauna with its attendant services and swim in the Ice-hole! Or maybe you can not escape from the office, although your brain loves the fresh air. In Villa Ula you can combine work and relaxation. Simply move the office to the Villa Ula resort and you will create non-traditional working conditions.

Vacation near the lake
3* Hotel Villa Ula is a natural oasis created a decade ago that is located in the heart of the Dzūkija region. Resort is on the shore of Burokaraistis lake and offers an opportunity to combine fun activities with the soul refreshing recreation. Our guests are accommodated in spacious buildings combined from modern interior and green Dzūkija nature and designed to ensure the maximum comfort. Through the windows of  Villas rooms gorgeous landscape is seen. A safe parking lot and two summerhouses where you can rest after a long trip are located next to the Villa. Those who want peace can spend their time with family and friends on the shore of nearly 3 kilometers lenght, L-shaped emerald-colored lake. You will have the opportunity to go fishing, lie on the lounger enjoying the sun baths and read a favorite book. Rural tourism near the lake will leave you indelible memories and a desire to come back. From hiking to basketball tournaments Those who like active leisure time can try boating, canoeing, participate and organize basketball tournaments, play billiards or table tennis. Villa Ula is surrounded by miraculous forests. They are known for Dzūkija berries, mushrooms and other forest products. (Villa Ula entertainment for guests) We have some great news for cycling fans.Villa Ula opened the first bicycle rental in Dzūkija and marked tracks from Dzūkija National Park to the resort Villa Ula. Vacationers can use bicycles for free. Rest all the year round Guests are invited to visit Villa Ula during the cold season too. A comfortable and warm resort will welcome them and offer winter activities like ice fishing, ice hockey, cross-country ski trails and excellent saunas with hot tubs.